Shop for your umbrella hat now!
Meet the Umbrella Hat, Your Hands-Free Protection Solution
Ready to have some fun and get things done? Stay protected with an umbrella you don't have to hold. You'll soon see that life is better under an umbrella hat – it's time to explore your wild side and live free!
The umbrella hat, while not a new invention, sure is a useful one. Not only can it give hands-free protection from rain, it also provides sun protection. That means an umbrella hat can be used as a hands-free parasol. Umbrella hats are adjustable for both large and small diameters to provide protection to both children and adults, so you can protect yourself and your loved ones.
The Umbrella That Lets You Multitask
While some might think an umbrella hat is merely a novelty item for the sports enthusiast, once you've experienced how easy it is to stay dry and safe from the sun, it will be a necessity for any outdoor event. With an umbrella hat, you can stay protected from the elements while having full use of your hands to do anything you need to do. You can play sports, take a photo, or enjoy a meal. All this is made possible when you don't have to hold a traditional umbrella.
There are many reasons to want to be hands free and still be protected from the elements. You can have two hands free for helping children in and out of the car, you can carry cardboard boxes without them disintegrating in the rain, or carry grocery bags in a downpour with only one trip. You can also carry that project to work and keep it protected from the elements. You can even wear an umbrella hat as a fashion statement. Recently, they have been seen on the red carpet as avant-garde headwear by high fashion designer Fendi. Our umbrella hats are the funky novelty variety, but the objective can be the same.
You need both hands these days. An umbrella hat will let you hold your coffee and your phone and still stay cool and dry. Order now!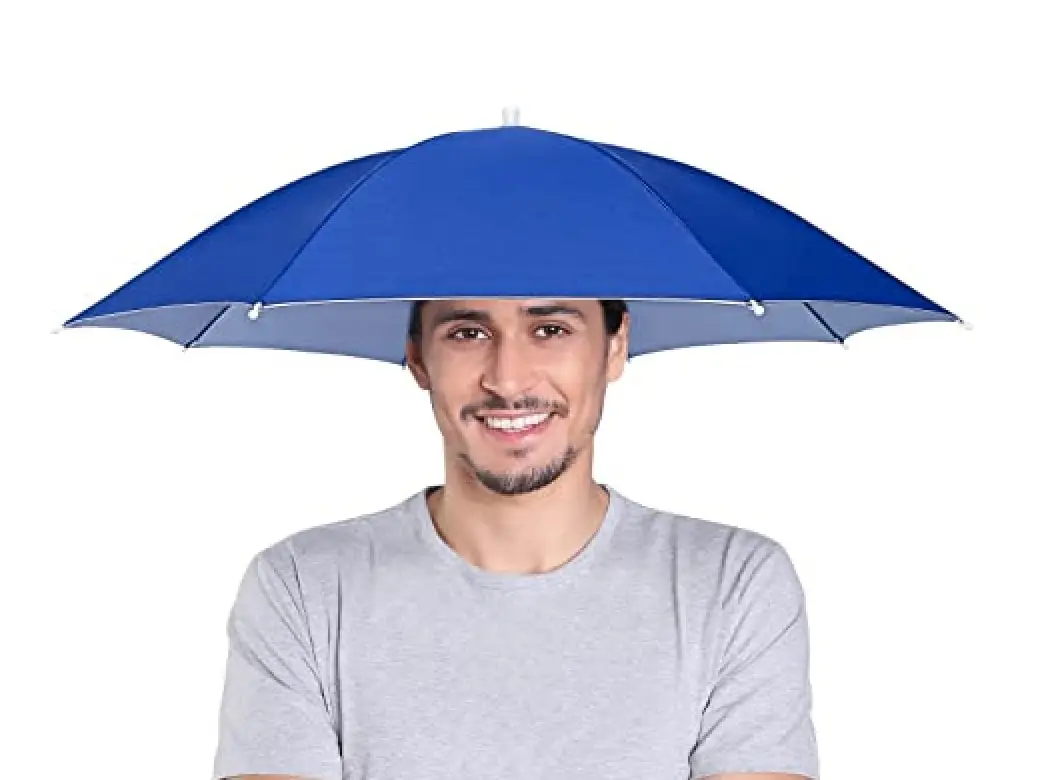 Umbrella Hat Lovers Speak Out
See what satisfied customers have said about these charming umbrella hats. Let them show you how umbrella hats have made all-weather gear a hands-free no brainer! Find out how they have put their umbrella hat to good use, and how it has made their lives easier.
Attention-Grabbing Functionality
Indoors or outdoors, an umbrella hat is a conversation starter – especially a rainbow colored one! An umbrella hat will garner attention for your business at events. At a craft fair, get people curious about your product with our quirky headwear, and if you are outdoors, an umbrella hat is one of the best tools for a rainy day. If all this attention gets you an interview or media attention, hold your mic, not your umbrella!
But umbrella hats are not just a bunch of hype about having your own personal canopy. They're as functional as they are eye-catching. Whether you're getting ready for some outdoor community activity, headed to a birthday party, or on the way to work, an umbrella hat can offer you worry-free protection. Here are some of the many features you'll enjoy when you choose an umbrella hat!
Umbrella hats offer hands-free protection that is unique and colorful. That means you get a conversation piece that has the skills to back up the notoriety. No matter where you go, your umbrella hat can go too.
Umbrella hats offer hands-free protection that is unique and colorful. That means you get a conversation piece that has the skills to back up the notoriety. No matter where you go, your umbrella hat can go too.
Adjustable Band for Different Sizes
We don't all have the same size head! An umbrella hat headband easily adjusts to different sizes and shapes of heads to give everyone the perfect fit. Even kids can enjoy an umbrella hat – and they love how fun it is!
Soft Band for Ease of Wear and Comfort
Have you ever worn a scratchy hat? You shouldn't have to worry about itchy or uncomfortable headwear that has you scratching like you have dandruff. Umbrella hat bands are soft and comfy.
Umbrella hats aren't just made of primary colors. They come in all different colors and patterns, including the classic rainbow. Explore these accessories in a wide array of designs to match any interest or fanbase so you can express yourself.
Because of their unique design, umbrella hats offer the ultimate experience in breathability. Hats can trap in heat (and sweat), but an umbrella hat allows plenty of airflow to keep your head as cool as it can be.
Whether you're gone fishing or shipping off to the funny farm, no average cap will do for those with the most flamboyant personalities. Men and women who are serious about standing out will want a rainbow colored umbrella hat.
Rainbow colors not your thing? No problem! A range of colors makes it easy to coordinate your umbrella hat to go with any outfit. Fill your closet with all your favorites and you'll always have the perfect hue.
Do you have an outdoors person in your life? You'll have them fitting right into the forest with the gift of a camo umbrella hat instead of a regular cap. Good for hunting or fishing, they can protect the heads of men and women without giving themselves away.
Umbrella hats are light enough to not weigh you down or give you a headache – that's no fun at all! But they are also strong enough to withstand normal wind speeds without breaking down so you can wear them without fear.
Compact and Easy to Store
Since you probably won't want to wear your umbrella hat all the time (you won't, right?), you'll find that its folding feature also makes it easy to store. Umbrella hats fold up into a small, compact package that will store easily in a bag or closet. It makes for easier shipping, too!
Shop for your best sun protection here. Explore now!
The Raindrop Store Offers the Largest Selection of Umbrellas on the Net
In addition to umbrella hats, our shop can provide your entire family with sun and rain protection. If they make it, The Raindrop Store has it. Express yourself with your favorite color, pattern, or theme. Love seashells? We've got beach themed umbrellas! Dog lover? Check. Fishing fanatic? Rainbow superstar? Men? Women? Kiddos looking for unique new toys? Favorite color blue? We've got you covered. Don't worry – if your favorite things are a little.
wacky, that's okay. The Raindrop Store selection ranges from basic black to wild and crazy designs, and we're shipping them out daily!
Did you know that umbrellas are the perfect gift? They are useful for protection against the elements, and with so many selections they can be personalized to the receiver. The Raindrop Store offers all kinds of umbrella hats in all colors for your umbrella needs and to make gifting easy. You can be creative with the gift of an umbrella, too. Consider opening the umbrella, flipping it over and filling it with gift paper or Easter grass. Suddenly the umbrella is a gift box you can fill with toys!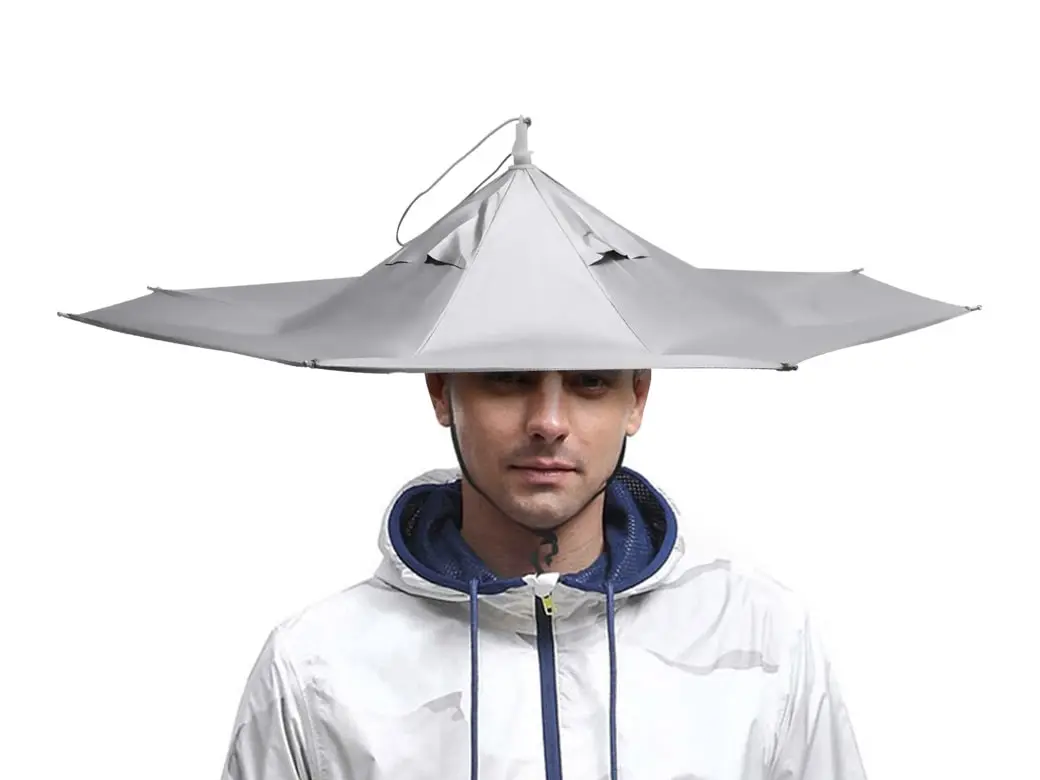 Our mission here at The Raindrop Store is to offer the largest selection of umbrellas and other water-related gear on the web. That's why our store offers page after page of information and options with a price tag you can live with. You can outfit your kindergartener with a raincoat and boots, get that spare umbrella you've always been meaning to add to your car, and get that unique gift for Aunt Jane that she'll love, all in a single online shopping experience. So don't hold back – when the sprinkling starts (or on those hot sunny days when there just isn't enough sunscreen), you'll be stylin' and everyone will want to know where you got those fabulously unique umbrellas and accessories. Shop now and get all your weather gear supplies at the best price with easy shipping.
The Perfect Accessory for Anyone, Anywhere
The umbrella hat can be used by anyone – men and women, young or old, tall or short. You can use it while fishing, golfing, wrangling children, at a wedding, or watching sporting events. You can even have umbrella hat décor as a home decorating choice! It's good for shielding you from sun and from moisture anytime you need to be active or just don't want to lug around a traditional umbrella. You can let your imagination go wild with these accessories! Where will you be led to wear it?
On the Beach
You've got your sunscreen, your swimsuit, and your towel. Why not add an umbrella hat for extra sun protection? It won't take up much room in your beach bag and is hassle-free to setup, unlike traditional beach umbrellas or a four-post canopy, and it shades better than a cap. It will cover the page on your beach book, too! Get one for each family member!
Now that you know how many places an umbrella hat can be used, Explore now! to get your own!
Ready to Order Your Own Umbrella Hat?
Smart move! Just choose your style and smash that "add to cart" button and check out. We'll take care of the rest. You'll get a confirmation email with all the details. When your umbrella hat has shipped, you'll get another email with shipping information and an estimated delivery date. Before long you'll be rocking your new favorite functional fashion accessories! Don't wait until your wedding or party is just around the corner. Shop now and order today for the best price and fastest shipping. If you've got a special request or would like to see something added to the store, contact us and we'll see if we can accommodate you!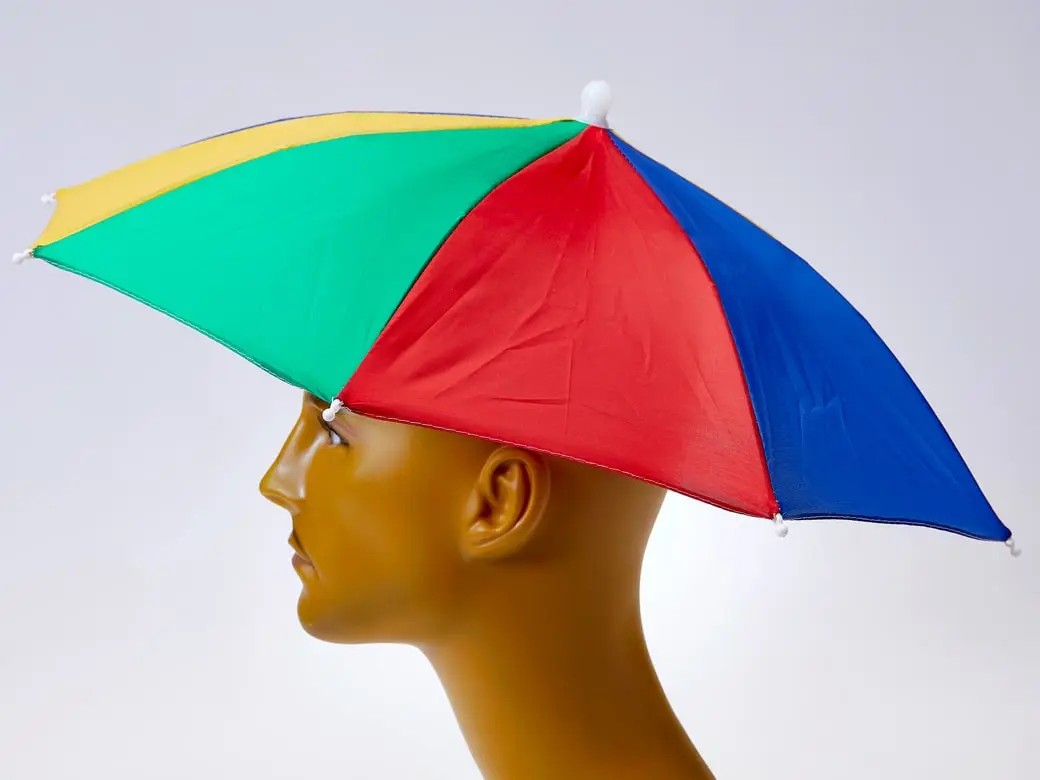 The History of the Umbrella Hat: Loved and Hated for Decades
Was this cool and fun accessory ever really popular? What led to this iconic creation? Take a look at the history of this much-maligned weather gear and judge for yourself.
Umbrella Hat History Lesson
Who invented the umbrella hat? We don't know for sure. After a lengthy search, here's the information we have on a few contenders to give credit to for the creation of these epic fashion accessories.
The invention of the umbrella hat is generally attributed to an eccentric named Robert W. Patten who lived in Seattle from 1890 to 1910. Patten was somewhat of a local celebrity, and was known to regale Seattleites with largely apocryphal tales of his life — like how he'd been a Civil War hero put on special assignment by Abe Lincoln and Ulysses S. Grant. As for the umbrella hat, he claimed that he invented it while prospecting in Mexico, but whether that's true is impossible to say. Undermining his claim is a patent for an umbrella hat by S.N. Campbell from 1855, though it's certainly possible that Patten had the same idea on his own. [US13212A - Sunshade - Google Patents]
The Right Time for an Umbrella Hat is Today!
Umbrella hats are not just quirky (and perhaps dorky) sun and rain protection for men, women, and kids. They are not merely a gag gift or a novelty item for sports enthusiasts. They have many practical uses that also keep life fun. Explore our umbrella hats for your own use or as a gift. We offer page after page of umbrellas for a wide variety of purposes, so whether you are shopping for yourself or others, our umbrellas offer the right item at the right price and can meet a range of needs.
Men and women who are retirees, wedding planners (or wedding attendees!), party planners, parents, farmers, and more love umbrella hats. If you're shipping off to go fishing or spend a day on the lake, making a costume, or need toys for the kids in your life, you can be certain you can find an umbrella to meet your needs at The Raindrop Store!